« I love the smell of altruism in the morning... | Main | I love when a plan comes together! »
Thursday, July 11, 2013
The unbearable strangeness of... wanting
I must be wired strangely.

Because I can't find a reasonable explanation for why certain things bore me to tears... while others fascinate me to the point of sleeplessness and obsession.

Take, for example, a little factoid I recently read about an element called Gallium.

Gallium is an unremarkable element but for the fact that this shiny silvery substance begins liquefying at 85.85°F. 

Which means that holding a chunk of Gallium in your hand for a few minutes will allow you to watch it turn into a quick-silver-esque puddle of kewlness... without any of the health risks associated with, say, Mercury.

Oh, and did I mention that you can pick up a nice chunk of Gallium on Amazon for a song?

To be clear, there is absolutely no practical reason I can think of for owning any Gallium. And yet...

Must. Resist. Temptation.... 


 
You secretly want to do this...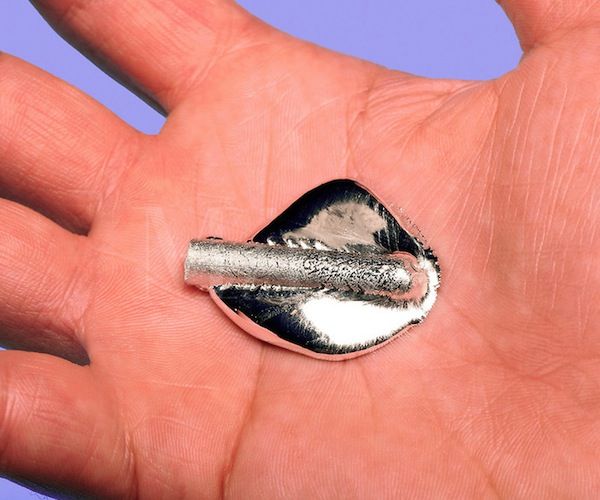 ... you know you do!
[hat tip:  Book of Joe]
Posted by David Bogner on July 11, 2013 | Permalink
TrackBack
TrackBack URL for this entry:
https://www.typepad.com/services/trackback/6a00d8341c581e53ef01901e331e69970b
Listed below are links to weblogs that reference The unbearable strangeness of... wanting:
Comments
Ah, First-World desires. On the one hand, 23 bucks IS a song. On the other hand, it would buy a pretty nice dinner out with the Goddess. Just sayin'.
Posted by: rutimizrachi | Jul 11, 2013 5:11:46 PM
Kewwwwl!! Must have!
Posted by: Yaron | Jul 11, 2013 11:58:25 PM
omg.
i do.
i want it.

Posted by: weese | Jul 12, 2013 4:16:46 PM
Laughing... so, you're not the only one to want to play with it. I went and got it for my kids, and they had a great time. Except, eventually it ended up soaking and fuzing into the carpet. It took some effort to clean. Still, wonderful fun :)
Posted by: It's Full of Stars | Jul 14, 2013 10:38:54 AM